Socks - "Flight of the Pollinators"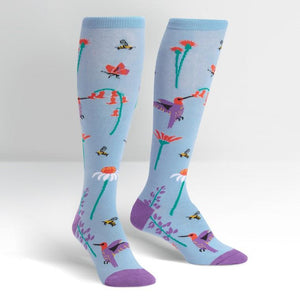 Socks - "Flight of the Pollinators"
Regular price
Sale price
$14.00
Support all our favourite Pollinators every way you can, simply by wearing these bee-utiful designed socks by Sock it to Me.   Bring awareness and start discussions about how the bumblebees and hummingbirds fly from flower to flower simply to get their next meal while they perform an important job - pollination.  As they move from flower to flower, they deliver pollen from one flower to the next, helping each plant bear fruit.
56% Cotton, 41% Polyester, 3% Spandex. Made in S. Korea.

Threads are certified by OEKO-TEX® Standard 100, which means we leave out harmful chemicals to keep your skin safe and happy.

Approximately fits women's shoe size 5-10 and men's shoe size 3.5-8.5.
Similar products
Customers who viewed this item also viewed