Socks - Bees with Sunflowers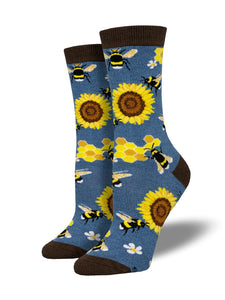 Socks - Bees with Sunflowers
Regular price
$22.00
Sale price
$19.50
Show your support for Bees and Ukraine!
NEW from SockSmith. Made predominantly from Bamboo, these socks are both eco-friendly and super comfortable. Oeko-Tex Certified. Long wearing, with spandex for stretch and Rayon produced from Bamboo.
These vibrant socks feature bees foraging on Sunflowers and bringing that delicious nectar back to their honeycomb. Bee proud when you wear them.
Size: Women, one size fits most, shoe size 5 - 10
Contents: 57% Rayon made from Bamboo, 41% nylon, 2% Spandex
Similar products
Customers who viewed this item also viewed