Beeswax Candle - Rope Pillar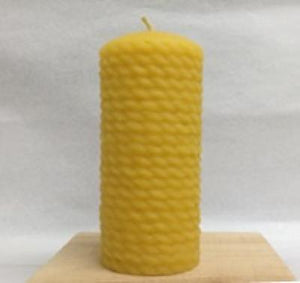 Beeswax Candle - Rope Pillar
Regular price
Sale price
$20.00
If you like the "nautical" or out-dorsy look this is a design for you. Tall Pillar candle appears to have sisal rope wrapped all around it.
Beautiful 100% Ontario Beeswax candles ... not only do they smell wonderful and emit a light closest to natural light, but they actually also help CLEAN the air you breathe.

Candle Size:  5 cm  x 12 cm  (2" x 4.75")  Diameter x Height
All Bees Are Life's Beeswax Candles are handmade by our Beekeepers, this one in Toronto, Ontario.
CANDLE BURNING TIPS:
keep your wick trimmed to 1 cm in length (trim before each burn)

burn Beeswax candles for at least one hour during each use

the first time you burn your candle let a small pool of wax (about the size of a quarter) form, then blow your candle out and let the wax harden. This "primes" your wick and will allow your Beeswax candle to burn more efficiently all throughout its life

keep your candle dust-free, but do not wet the wick during cleaning 
Similar products
Customers who viewed this item also viewed