Beeswax Candle - Drizzle Pillar 5.5"... by the Pair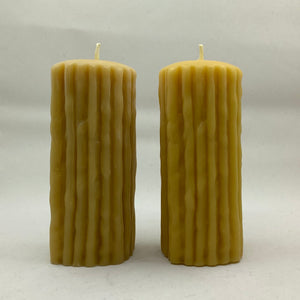 Beeswax Candle - Drizzle Pillar 5.5"... by the Pair
Regular price
$44.00
Sale price
$40.00
Pure Ontario Beeswax is all these beautiful candles contain. The design is a more "clean" look for a Drip Pillar candle, so we call it a "Drizzle" Pillar.  Each candle measures approximately 5 1/4" high x 2 1/4" wide.
By buying a pair you get a lovely, long-lasting set to grace your dinner table or bedroom ... and a nice Discount. Purchased singly this candle is $22.00, or get 2 for $40.00. That's almost 10% off!
As in all Natural Beeswax Candles you will get some colour variation in the wax from batch to batch (as in this photo).  We'll do our best to match them, but some there may be slight difference in the shades of wax.
Similar products
Customers who viewed this item also viewed