Beeswax Block - 454g = 1 lb.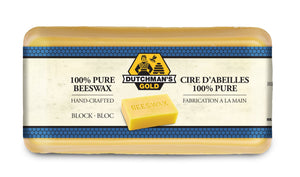 Beeswax Block - 454g = 1 lb.
Regular price
$25.99
Sale price
$18.95
This is a true "gold bar" of pure Canadian Beeswax, simply melted and strained.  And it's triple filtered to ensure purity and superior clear colour. It's non-allergenic, non-toxic and antibacterial.
Sold in single 454g / 1 lb. bricks for you to melt or grate to make your own creations. Great for candles, cosmetics, body care, cooking, and many home uses ... there are over 1,000 uses for natural beeswax. More popular than ever (and very eco-friendly) are beeswax food wraps, for which this wax is perfect.  
This is a Natural product, so the colour varies by block.  COSMETIC GRADE and food safe.  Beeswax lasts, and can be re-melted and reused indefinitely.
Always use a double-boiler to melt beeswax. It is highly flammable (which is why it makes great candles) and should never be melted over direct heat. Extremely hot when melted, please be careful to avoid burns while working with it. Solid at room temperature.
Product of Canada.
Contains NO soy, NO paraffin and NO vegetable waxes, only 100% Beeswax.
Similar products
Customers who viewed this item also viewed