Absolutely Pure Basswood Honey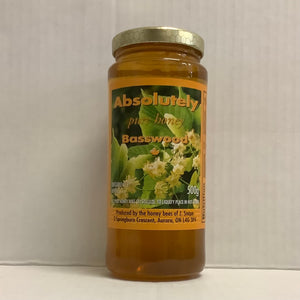 Absolutely Pure Basswood Honey
Regular price
Sale price
$17.00
Absolutely Pure is like "the fine wine of honeys". Its thick viscosity indicates a lower moisture content, so it slowly melts in your mouth into honeyed-bliss. The robust flavour & smooth finish make it a real winner!  

This Varietal Basswood honey is a special limited edition harvest. 
About the Beekeeper
John Snape has been a beekeeper since 1981, in the Aurora area. While still in his 20's he won the "Reserve Champion" of Canada Award at the Royal Agricultural Winter Fair for his honey entry, beating out many long-time beekeepers. His 50+ hives are in and around York Region, including in Aurora, Newmarket, Mt. Albert and Kettleby, and he has been a mentor to a number of young beekeepers. 
Similar products
Customers who viewed this item also viewed