"Winnie-the-Pooh Hunny" Gift set * ROM Member Special *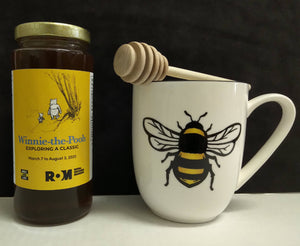 "Winnie-the-Pooh Hunny" Gift set * ROM Member Special *
Regular price
Sale price
$25.00
Bees Are Life is proud to be the Official Honey Partner to the Royal Ontario Museum in Toronto, for the Exhibition "Winnie-the-Pooh: Exploring A Classic". The Exhibit originally ran at the ROM March 7 to August 7, 2020,  and was relaunched September 1, 2020 to January 7, 2021.
And what does Winnie-the-Pooh love ??? Of course, it's Honey ... or "Hunny", as Winnie knows it. 
In celebration of this Exhibit we have curated a special-edition "Winnie-the-Pooh Hunny", which is available for sale only at the ROM Gift Shop or through our store and Bees Are Life's events. It is the feature of this lovely gift set.

SPECIAL for ROM Members:  In-store, present your Membership card and get this gift set for only $25.00 (Regular price is $30.00). If you order this Gift set online you will be required to provide email proof of ROM Membership prior to shipping to receive special pricing.
Similar products
Customers who viewed this item also viewed