Toronto Botanicals Gift Set - Lavender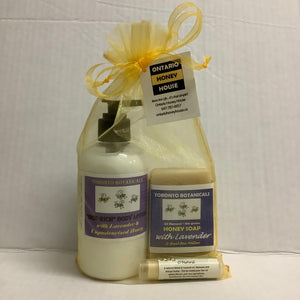 Toronto Botanicals Gift Set - Lavender
Regular price
Sale price
$20.00
Your Toronto Botanicals Gift Set - Lavender contains:
One bottle of our famous Lavender Hand and Body Lotion
One bar Lavender Honey Soap
One O'Natural Lip Balm
Organza bag as a gift-giving and reusable package
Chemical-free and scented with all natural Lavender essential oil, our Hand and Body Lotions are a "wow"! You'll never go back to the store-bought creams once you try this. Rich & emollient but not greasy ... made with our own 100% Ontario Honey, one of nature's original moisturizers. It's great for a gardener's rough hands, dry skin from doing too many dishes, winter's cracked heels or very dry skin.
Paired with our Toronto Botanicals Lavender Honey Soap, you'll further moisturize your skin and layer your scents. Our all natural soaps are made the old-fashioned way, and use no chemicals, no sudsing agents, and no surfactants. They are good for your skin and good for the environment. Made with OUR own Honey, Beeswax and Pollen from our beehives at Black Creek Pioneer Village. Why does it work? Honey both moisturizes and exfoliates, Bee Pollen is a protein source which helps repair your skin cells, and the Beeswax helps seal your skin's moisture in.
Add a Beeswax-based all natural Lip Balm and your body will "BEE happy".
Similar products
Customers who viewed this item also viewed