Honeybee Hobbyist by Norman Gary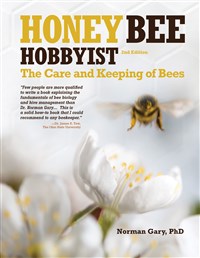 Honeybee Hobbyist by Norman Gary
Regular price
Sale price
$24.99
From Publishers Website:
Practical, comprehensive introduction to beekeeping. Well illustrated, solid how-to book. Author is a world-renowned honey bee expert and enthusiast. More than 100 fascinating color photographs. Expert tips and tricks for beekeeping success. 

Reviews
As practical as it is engaging, Honey Bee Hobbyist by University of California, Davis, entomologist Norman Gary can help you decide if backyard beekeeping is for you and how to go about it. Learn all about these important pollinators, including the intricacies of bee reproduction and society, how to use surplus honey, and why most people shouldn't be overly afraid of a bee's sting. California Bountiful Magazine—California Bountiful Magazine

Author Bio
Norman Gary received his PhD degree in Apiculture (the scientific study and management of honeybees), a very rare degree in the field of Entomology. After 3 years of postdoctoral research at Cornell, he joined the faculty at the University of California (Davis Campus) in 1962 as a professor and research scientist, a career that would last 32 years. Norman has published over 100 scientific papers and chapters in 4 books. Beginning in the '60s, he developed a secondary career in the entertainment world as a "bee wrangler," training his favorite insect to perform in action scenes in movies, television shows, and commercials. He did bee scenes in 18 movies, working with about 40 well-known movie stars, appeared as a guest in more than 70 television shows, did 6 commercials with bees. Norman is also an accomplished musician, playing professionally for 45 years, including his own Dixieland band, the Beez Kneez Jazz Band. He holds two Guinness world records for bee stunts, invented a patented bee apparatus and developed the "Thriller Bee Show" that was performed at fairs, festivals, and other events. He was a member of the Screen Actors Guild, American Federation of Radio and Television Artists, and 10 other professional organizations. Norman is currently retired, after raising two children with his wife in Citrus Heights, CA.

Similar products
Customers who viewed this item also viewed