Smak Dab Gourmet Mustard Hot Honey Jalapeno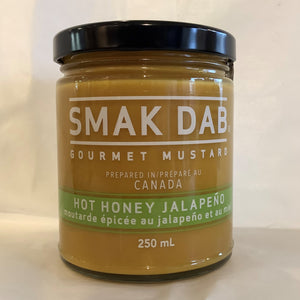 Smak Dab Gourmet Mustard Hot Honey Jalapeno
Regular price
Sale price
$12.00
Crank things up a notch with the sweet heat of this lively blend of Manitoba honey and spicy jalapeño. Pairs well with: grilled burgers, hot dogs, crispy chicken wings, mayo-based dressings.  250ml

Ingredients: Honey, Vinegar, Mustard Powder, Water, Sea Salt, Cane Syrup, Jalapeño Flakes, Seasoning, Spices.  
Naturally gluten-free. Free of dairy, nuts, and soy.  Refrigerate after opening.
Similar products
Customers who viewed this item also viewed