Smak Dab Gourmet Mustard Honey Horseradish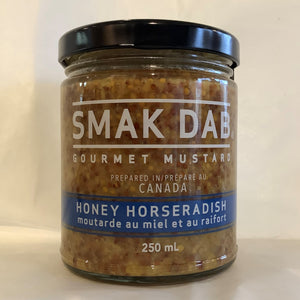 Smak Dab Gourmet Mustard Honey Horseradish
Regular price
Sale price
$12.00
"Our bestseller marries the sweetness of Manitoba honey with the twang of horseradish, with an added burst of texture from our Canadian mustard seeds.  Pairs well with: grilled ham and cheese sandwiches, devilled eggs, glazes on salmon and chicken."  250ml

Ingredients: Apple Cider Vinegar, Honey, Mustard Seeds, Water, Horseradish (Sulphites), Mustard Powder, Sea Salt, Seasoning, Spices.

Naturally gluten-free. Free of dairy, nuts, and soy.   Refrigerate after opening.
Similar products
Customers who viewed this item also viewed