Puzzles - "The World of Bees" - 1,000 pieces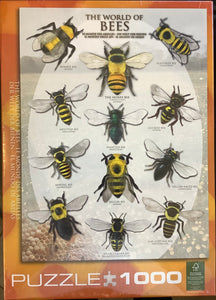 Puzzles - "The World of Bees" - 1,000 pieces
Regular price
Sale price
$22.99
Bees Are Life ... it's that simple.  Did you know that one of every 3 bites of food we eat is thanks to the bees and pollinators in the world?  And did you know that there are over 24,000 species of bees in the world?
Puzzles are the perfect indoor activity, for adults and kids alike! This 1,000-piece jigsaw puzzle by Eurographics beautifully depicts 12 of the world's most recognizable bees, such as the Honeybee (of course, our favourite), Bumble Bee and Cuckoo Bee, all shown in beautifully detailed illustrations.
All Eurographics puzzles are made according to very high standards, to give you many years of enjoyment. They are:
made of 100% recyclable materials,  using non-toxic and vegetable based inks;
printed on 0.07" Blueboard for exact piece fit without fraying;
Certified by the Forest Stewardship Council.
Finished Puzzle size:  19.25" x 26.5"



Similar products
Customers who viewed this item also viewed