Puzzles - "Butterflies" - 1,000 pieces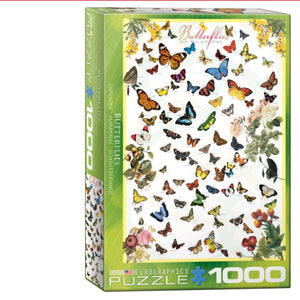 Puzzles - "Butterflies" - 1,000 pieces
Regular price
Sale price
$22.99
Puzzles are the perfect indoor activity, for adults and kids alike! This 1,000-piece jigsaw puzzle by Eurographics beautifully depicts this delicate, colourful and exquisite creature – the butterfly is a fascinating study of art in motion. This puzzle offers a collection of over 50 global species and is both beautiful and educational.
All Eurographics puzzles are made according to very high standards, to give you many years of enjoyment. They are:
made of 100% recyclable materials,  using non-toxic and vegetable based inks;
Strong high-quality puzzle pieces.
Made from recycled board and printed with vegetable based ink.
This superior quality puzzle will delight and educate all at the same time.
Finished Puzzle size:  19.25" x 26.5"



Similar products
Customers who viewed this item also viewed