Puzzles - "Butterflies of North America" - 500 pieces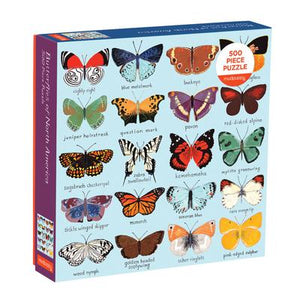 Puzzles - "Butterflies of North America" - 500 pieces
Regular price
Sale price
$19.99
A fun, inspiring and teaching activity, jigsaw puzzles are now "all the rage", as the perfect indoor activity, for children and families.
Bees, birds and butterflies all inhabit our eco-system, to help it work in harmony. Put together this 500-piece family-friendly puzzle to reveal a beautiful series of colourful butterflies that inhabit North America. The eye-catching illustration includes 20 different butterflies.
Puzzle pieces come packaged in a sturdy and easy-to-wrap box, perfect for gifting, reuse, and storage. Includes an educational insert with information about the artist and image.

For Ages 5 - 18.  

Finished Puzzle size:  20" x 20" 

Made from Eco-friendly materials, this puzzle's greyboard contains 90% recycled paper, and its packaging contains 70% recycled paper. Printed with nontoxic inks.

All Mudpuppy products adhere to CPSIA, ASTM, and CE Safety Regulations.
Similar products
Customers who viewed this item also viewed