Puzzle - "Around The World in 50 Trees" - 1,000 pieces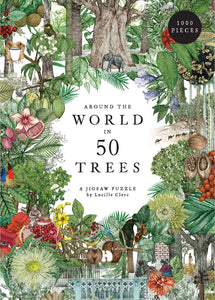 Puzzle - "Around The World in 50 Trees" - 1,000 pieces
Regular price
Sale price
$29.99
One of our Best Sellers for the 2022 Holiday season!
From the Publisher:
"A 1000-PIECE JIGSAW FOR NATURE LOVERS. Piece together a living, breathing world of trees and fill the gaps in your knowledge as you go with a comprehensive poster guide.
BESTSELLING AUTHOR. Text by tree expert Jonathan Drori CBE, the author of the bestselling book Around the World in 80 Trees, and upcoming Around the World in 80 Plants.
HOURS OF COZY FUN. Learn about 50 trees from around the world - all from the comfort of home!
THE PERFECT GIFT. Illustration-led, highly finished jigsaw and illustrated poster for maximum gift appeal.
AMAZING ARTWORK. Lucille Clerc's intricately drawn world is bursting with minute detail.

Finished puzzle size 48.5 x 68 cm or 19" x 27"
DISCOVER THE WORLD IN 50 TREES
From the beech forests of southern Sweden to the North African argan trees - goats aloft in their branches - passing by India's sacred banyan, the Hawaiian koa, and right down to Australia's jarrah.
Jonathan Drori CBE is a trustee of The Woodland Trust and The Eden Project, an ambassador for WWF and the author of Around the World in 80 Trees .

Lucille Clerc is a French illustrator based in London who has worked with clients such as Dior, the V&A Museum and Historical Royal Palaces"
Similar products
Customers who viewed this item also viewed