Pro Nuc Permanent Nuc Box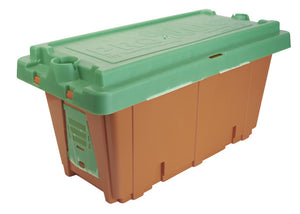 Pro Nuc Permanent Nuc Box
Regular price
Sale price
$29.95
You'll only need to buy this once ... and you'll enjoy it for your whole Beekeeping career.
Permanent Polypropylene Nuc Box, holds 5 x deep 9-1/8" (23.18 cm) frames.  Can also be used for medium frames, including for transporting full frames of honey.  Frames and bees not included. Easy assembly and use instructions are permanently on the bottom of the lid.
No more taping lids or bees "leaking out" as the Pro Nuc lid latches firmly in place. Entrances on both ends, with ventilation inserts, and reversible lid allows for much better airflow designed so the bees can better control temperature inside the box.  
Removable frame rests and retainers keep frames in place, and can be removed for cleaning. Features 2 feeding ports, fits your choice of soda bottles or 1 gallon hive top feeders (not included). Drain holes on the bottom help control moisture inside.
Total Box measures 12" wide, 12" high, 23" long, lids, side inserts and frame rests available in a variety of colours. For off-season storage they nest and stack neatly to save space.
Designed for transport and short term use, not designed as a long-term hive substitute or for overwintering bees.
Similar products
Customers who viewed this item also viewed