Pooh's Library by A. A. Milne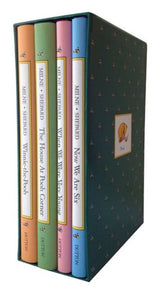 Pooh's Library by A. A. Milne
Regular price
Sale price
$79.96
For Winnie-the-Pooh lovers of all ages.
From Publisher's website:
In 1926, Winnie-the-Pooh, a collection of stories about a rather stout, somewhat confused bear, was published in England and America, to immediate success, and established acclaimed dramatist A. A. Milne as a major author of children's literature. Almost 90 years later, the world of Winnie-the-Pooh, Piglet, Eeyore, Christopher Robin, and others continues to enchant readers of all ages with its elegant but simple and whimsical but wise stories.
This box set contains four hardcover books: the two original Pooh novels, Winnie-the-Pooh and The House at Pooh Corner, and Milne's two poetry collections, Now We Are Six and When We Were Very Young, which features the very first appearance of Pooh.
Decorations by E.H. Shepard
Similar products
Customers who viewed this item also viewed