Nature Anatomy, by Julia Rothman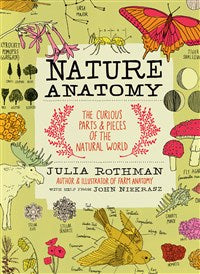 Nature Anatomy, by Julia Rothman
Regular price
Sale price
$23.95
One of the few books that comes with a companion Puzzle (500 pieces). Take a look at it too ... in combination they make a fabulous gift for the budding naturalist.
From the Publisher:
"An illustrated invitation to become a student of the nature world, the second book in Julia Rothman's Anatomy series captures nature's wonders from mosses to mountain lions to the phases of the moon.
Author Bio
Julia Rothman is an illustrator, pattern designer, and author. Her illustrated column, Scratch, is featured biweekly in the Sunday New York Times. Clients include Target, the Washington Post, MTA Arts & Design, and more. Rothman has authored, coauthored, and illustrated twelve books, including Ocean Anatomy, Nature Anatomy, Farm Anatomy, Food Anatomy, and Nature Anatomy Notebook. She lives and works in Brooklyn, New York."
Paperback, 224 pages
Published  2015/01/27
Similar products
Customers who viewed this item also viewed