Escape to Reality: How the World is Changing Gardening, by Mark and Ben Cullen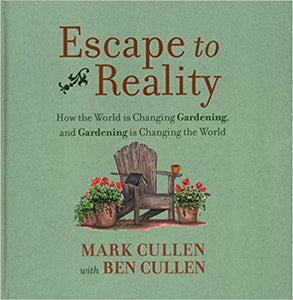 Escape to Reality: How the World is Changing Gardening, by Mark and Ben Cullen
Regular price
Sale price
$25.95
The Full title of this book is ...  Escape to Reality: How the World is Changing Gardening, and Gardening is Changing the World.
Each copy of this book signed by Mark Cullen.
From the Publishers Website:

"Why do we garden? Why should we? How is gardening changing the world? These are just some of the philosophical gardening questions pondered in this heartfelt and gorgeously designed book. An informed and personal reflection on gardening in Canada from the country's preeminent horticultural expert, Escape to Reality goes beyond the hows that are the focus of most gardening books and explores the whys. In short, narrative essays, topics range from garden and nature as therapy to who we are as gardeners and what life values we gain through the experience of gardening.
It also includes some practical tips for cultivating and coexisting with your garden. Co-written with son, Ben Cullen, bestselling author and horticultural consultant Mark Cullen's newest book is sure to find a home on the shelves of mindful gardeners across the country, and beyond. Proceeds benefit the Highway of Heroes. Includes original illustrations."
And, as an added bonus (and something we're very proud of) Bees Are Life's own Founder Cathy Kozma (who manages beehives at Mark's home property) is mentioned in this book. Send us an email at beesarelife@gmail.com to request Cathy also sign your copy.
Similar products
Customers who viewed this item also viewed