Manuka Honey - New Zealand - Wedderspoon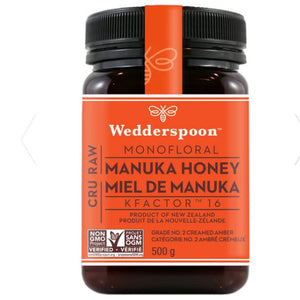 Manuka Honey - New Zealand - Wedderspoon
Regular price
Sale price
$49.00
The Manuka tree, a relative to the Tea Tree, grows abundantly throughout New Zealand, often in extremely rugged and remote terrain. When hives are placed in areas where the Manuka tree dominates the landscape, bees feed off the nectar.
THE RESULT? MANUKA HONEY.
The original functional food. Unpasteurized, raw and delicious, this Non-GMO Project Verified superfood is sourced exclusively from New Zealand and is a multitasking superfood. Every jar is sourced, packed and sealed in New Zealand for the ultimate in quality and transparency. KFactor 16 Monofloral Manuka Honey is guaranteed to meet or exceed the Monofloral Manuka Standard from the New Zealand Government.
Free of antibiotics, pesticides, and glyphosate.  500g.

INGREDIENTS: RAW MONOFLORAL MANUKA HONEY
Similar products
Customers who viewed this item also viewed