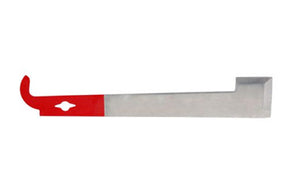 Regular price
Sale price
$17.95
J-Hook or Conventional Hive Tool? Every beekeeper has their preference, but the J-Hook crowd are really committed to this style. 
The large "J"-shaped hook at the end acts as a "lifter", designed to pry and lift along the fulcrum to get frames out of the hive. The thicker gauge steel is strong and very effective for prying apart hive bodies, and using as a mini crow bar. The bevelled edge is also great for scraping off beeswax and propolis.  
May feature a bee-equipment supplier logo.
Measures: 10½", a tempered steel, multi-functional tool.


Similar products
Customers who viewed this item also viewed