Honey Bees: Letters from the Hive, by Stephen Buchmann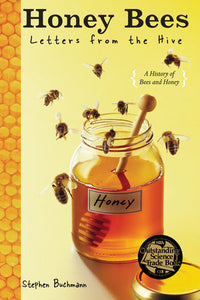 Honey Bees: Letters from the Hive, by Stephen Buchmann
Regular price
Sale price
$15.00
From the Publisher "In Honey Bees: Letters From the Hive, bee expert Stephen Buchmann takes readers on an incredible tour. Enter a beehive--one part nursery, one part honey factory, one part queen bee sanctum--then fly through backyard gardens, open fields, and deserts where wildflowers bloom. It's fascinating--and delicious!

Hailed for their hard work and harmonious society, bees make possible life on earth as we know it. This fundamental link between bees and humans reaches beyond biology to our environment and our culture: bees have long played important roles in art, religion, literature, and medicine--and, of course, in the kitchen.

For honey fanatics and all who have a sweet…"
Similar products
Customers who viewed this item also viewed