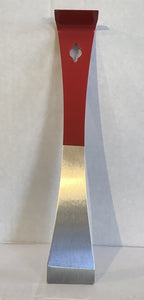 Regular price
Sale price
$14.95
The industry standard ... tried and true, and economical. Our Head Beekeeper prefers this style of tool, too!
The hook on the end also acts like a crowbar for prying; the extra thin spring-steel makes it lighter-weight, and the sharper edge makes it the most effective at separating hive bodies and frames gummed up with propolis.
May feature a bee-equipment supplier logo.
Size: 26 cm × 5 cm × 1 cm
Similar products
Customers who viewed this item also viewed