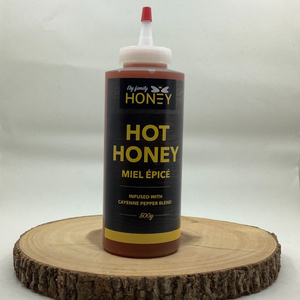 Regular price
Sale price
$18.00
WOW ... try this amazing Honey-condiment, infused with a signature Cayenne Pepper Blend. It's great on pizza and ice cream, anything BBQ's, or to add a dash to spice up your veggie stir fry.  It's also a fabulous dipping sauce for chicken wings or fingers. Experiment, have fun and try it on any of your favourite foods.
Comes in a convenient, 500g plastic Squeeze bottle.
From their website:
"Eby Family Honey is a small-batch honey producer located in the Region of Waterloo. Our pure 100% Ontario Honeys are minimally filtered. We're a small scale honey producer located in Moorefield, ON and members of the OBA. We are continuing to grow our apiary. Our 1st yard is on the family farm, north of Waterloo, and our 2nd location is at our home in Moorefield. There are plans to expand to more locations. We keep a close eye on our bees in the spring and fall, so that they can be left alone during the summer days. Bees are very self sufficient and amazing workers, but they need to be checked to make sure they have all the nutrition to survive."
Similar products
Customers who viewed this item also viewed