Dutchman's Gold Royal Jelly capsules (90 x 1,000 mg)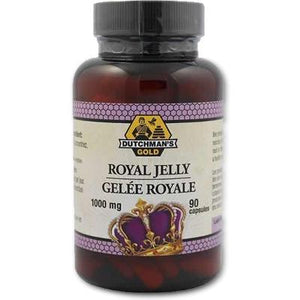 Dutchman's Gold Royal Jelly capsules (90 x 1,000 mg)
Regular price
Sale price
$34.95
Each Dutchman's Gold ROYAL JELLY Capsule contains freeze-dried Royal Jelly, which offers a more potent 4 – 6% 10-HDA, without any artificial additives.  It's shelf stable, and does not require refrigeration (like Fresh Royal Jelly does).  These capsules may be a simple way to pump up your wellness program. 

Many health benefits are attributed to Royal Jelly, including:  boosting your immune system, giving you additional energy, helping to fight colds and flu, promoting healthy hair, nails and skin, and they may even help improve fertility. 
Ingredients: 100% Royal Jelly powder (freeze dried), Rice powder (166 mg), in a Vegetarian capsule.  Guaranteed 4 - 6% 10-HDA. 
The bottle contains 90 capsules, of 1,000mg each, also making it a more economical way to get your Royal Jelly.
Directions:  Take one or two capsules daily for general health or as directed by your health care practitioner. 
Similar products
Customers who viewed this item also viewed