Dutchman's Gold Bee Propolis capsules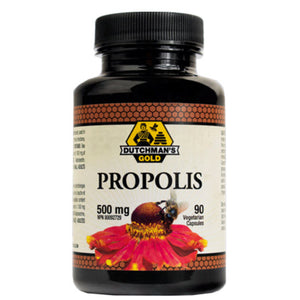 Dutchman's Gold Bee Propolis capsules
Regular price
Sale price
$19.95
Quoted from the Dutchman's Gold Website :  
"Stay active with propolis, the unsung hero of the hive!

One of mother nature's most versatile substances, propolis is lesser known than honey or bee pollen, but it offers many of the same benefits.

Used for millennia to protect against infectious invaders and promote healing while providing a superior source of energy and endurance, propolis is a natural antioxidant. It is also believed to be anti-inflammatory, anti-viral, and anti-bacterial, all of which promotes healthy skin and fertility.

Regardless of where you are in your health journey, discover the benefits of this all-Canadian supplement.  90 capsules.  500mg.
Ingredients: Standardized propolis powder, maltodextrin, vegetable cellulose capsule.
Directions: For general health, take one or two capsules of propolis per day with or without food. "
Similar products
Customers who viewed this item also viewed