Dutchman's Gold Bee Pollen 250g Canadian Premium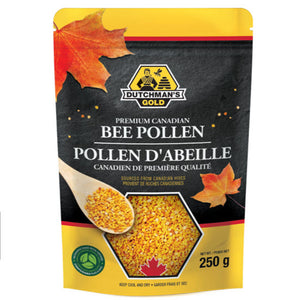 Dutchman's Gold Bee Pollen 250g Canadian Premium
Regular price
Sale price
$23.95
ON SALE: Packages for faster consumption, expires Nov. 2022.
From Dutchman's Gold website:  "An all natural, all Canadian addition to your diet, Premium Canadian Bee Pollen Granules add antioxidants, minerals, and amino acids to your favorite foods – along with a mild, sweet taste!  250g resealable bag.

Sourced from Canadian hives and packaged in compostable materials, our bee pollen granules are produced with sustainability in mind.

Consider our Premium Canadian Bee Pollen Granules as a natural, locally-sourced alternative to aid in weight loss and benefit anyone looking to improve their diet."
Similar products
Customers who viewed this item also viewed