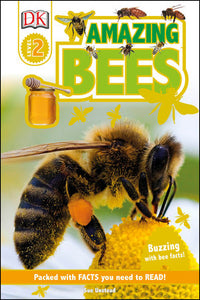 Regular price
Sale price
$4.99
From Publishers Website:  ABOUT DK READERS L2: AMAZING BEES
Learn everything there is know about bees in Amazing Bees! From buzzing to different flowers to being a vital part of the earth's ecosystem, bees are very busy creatures.

Discover what makes bees so special and find out how we can help them in Amazing Bees.

Perfect for 5–7 year olds beginning to read fluently with support, Level 2 titles contain carefully selected photographic images to complement the text, providing strong visual clues to build vocabulary and confidence. Additional information spreads are full of extra fun facts, developing the topics through a range of nonfiction presentation styles such as diagrams, and activities.

Lexile measure: 720
Fountas and Pinnell Text Level Gradient: M

Trusted by parents, teachers, and librarians, and loved by kids, DK's leveled reading series is now revised and updated. With shiny new jackets and brand new nonfiction narrative content on the topics kids love, each book is written and reviewed by literacy experts, and contains a glossary and index making them the perfect choice for helping develop strong reading habits for kids ages 3–11.

Paperback

Similar products
Customers who viewed this item also viewed