Dancing Bee Buckwheat Honey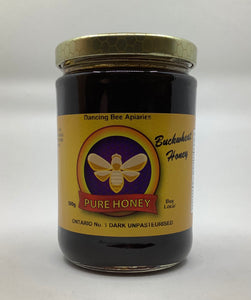 Dancing Bee Buckwheat Honey
Regular price
Sale price
$12.50
Mid-range in Buckwheat's flavour scale, pair this earthy delight with your favourite full-bodied cheddar cheese or dark chocolate. The rich, woodsy flavour, reminiscent of coffee or molasses, it's perfect as a topping for pancakes or waffles. 
Limited quantities, the Dancing Bee Honey label is soon to be retired.
Have you ever tried Buckwheat Honey? You must !!!  It's a whole new taste sensation when it comes to honey, and totally delicious. It also happens to be among the healthiest of honeys, with strong anti-bacterial and anti-microbial properties.
Doctors now also recommend Buckwheat Honey as an effective remedy for coughs ... and it tastes so much better than commercial cough syrups.
Please note: Buckwheat Honey (similar to other late season crop honeys) tends to naturally crystallize faster than others. If you'd like to ensure yours is liquid please leave us a Note on your order page, otherwise it may be partially or fully crystallized.
Similar products
Customers who viewed this item also viewed