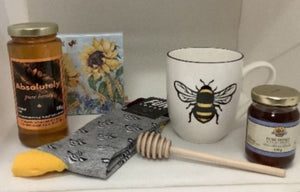 Regular price
Sale price
$49.00
Honey is a great gift for any season and any reason ... and since pretty much EVERYONE loves pure 100% Ontario Honey it makes the perfect gift for all.
Delight your family or friends with this lovely package ... and if you leave a note for us when you order we can even include a handwritten gift enclosure card, to commemorate the occasion. 
This Gift package includes:
One 500g jar Absolutely Pure Wildflower 100% Ontario Honey
One 150g jar Dutchman's Gold Blueberry Honey
One 16 oz. Bee themed Mug
One Pair Bee-themed socks (please add a note if you prefer Men's or Women's socks)
One Wooden Honey Dipper
One 20pk Bee themed Cocktail Napkins 
PLEASE NOTE: the Bee-themed Socks and Cocktail Napkins both come from our large selection, and may not be exactly as shown, but we will co-ordinate the look.
Similar products
Customers who viewed this item also viewed