Fumapin ® Ointment - Psoriasis Cream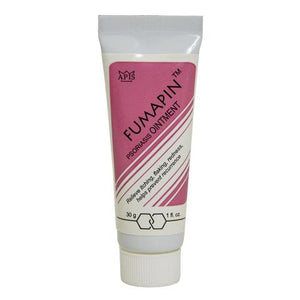 Fumapin ® Ointment - Psoriasis Cream
Regular price
Sale price
$28.95
Fumapin® Ointment is an effective treatment for psoriasis and/or seborrheic dermatitis, made with Canadian Honeybee venom and Manuka Honey. A specialized, ethical extraction method ensures that bees do not die in the process of venom collection.  
Made in Canada by Apitronic Services, Richmond B.C.  Packaged in a 30gr tube.
From the Fumapin® product monograph:
"NOTE : FOR TOPICAL USE ONLY, Read enclosed instructions before administering, this is a potent ointment. In texture it is more like a "cream", not oily and thick as you might expect an "ointment" to be.
INDICATIONS: For the relief of symptoms associated with psoriasis and/or seborrheic dermatitis including itching, redness, flaking and irritation of skin. Soothes inflamed skin and gradually improves skin conditions mild to moderate. Helps prevent recurrence. For use by persons 18+ years of age, keep out of reach of children.
ACTIVE INGREDIENTS: Allantoin, Apis Venenum Purum (Honeybee Venom), Manuka honey 16+, Propolis, Royal Jelly, Extract of Calendula officinalis, Camellia sinensis, Fumaria officinalis, Lavandula angustifolia, Mahonia aquifolium ... and other ingredients.
NOTE - CONTRAINDICATIONS:  There are no contraindications against the use of Fumapin® Ointment unless any of the ingredients are contraindicated. Fumapin® Ointment contains a minute amount of honeybee venom that is contraindicated to patients or are most at risk with known allergy to bee venom, asthma sufferers, during pregnancy, breast feeding, to infants and small children, and patients with kidney disorders. Do not use this product if never been stung by a bee or exposed to any forms of bee venom."
Similar products
Customers who viewed this item also viewed