Dutchman's Gold Honey and Propolis Throat Spray ... with Mint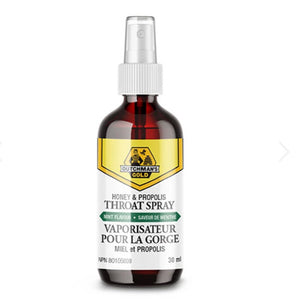 Dutchman's Gold Honey and Propolis Throat Spray ... with Mint
Regular price
Sale price
$14.95
Propolis is a powerhouse anti-oxidant and anti-bacterial, but not everyone loves the taste. Combined with the popular flavour of peppermint, and in a convenient throat spray, you now have no excuse not to try it. When your throat gets a tickle a few spritzes will help take the sting away and start the healing process. Keep a bottle in your desk, or carry it in your car, purse or pocket.
Dutchman's Gold Honey and Propolis Throat Spray uses the power of honey, one of nature's undisputed wonder-healers, and Bee Propolis, to help relieve your sore throat, gum, and throat infections. Both products of the beehive have been used for ages in the traditional Herbal Medicine of many cultures.

Glass spray bottle, 30 ml. For adult use only. Please read dosage information prior to use.
Similar products
Customers who viewed this item also viewed