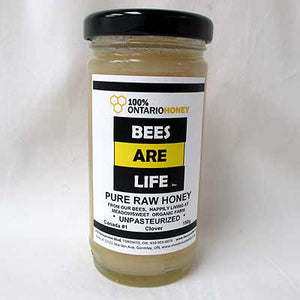 Regular price
Sale price
$5.00
A lovely and light RAW honey, predominantly Clover in source, it has NEVER been heated, and preserves all the pollen and beeswax content.
Beehives on an organic property on Warden Ave, in Stouffville / Gormley, Ontario OR at Black Creek Pioneer Village in Toronto. If you prefer one in particular please put a note in along your order and we will attempt to fill with your preference, otherwise we'll surprise you. Both are delicious!
A great size for sampling or for travellers (to take a taste of home with you), a 150g jar. 
Similar products
Customers who viewed this item also viewed