Beekeeping for Dummies, by Howland Blackiston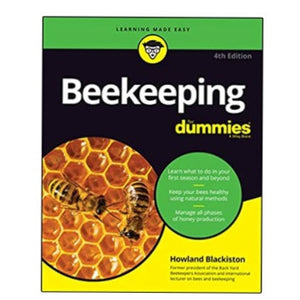 Beekeeping for Dummies, by Howland Blackiston
Regular price
Sale price
$29.95
FIFTH EDITION - Updated and Expanded in 2020.
"This is one of the best introductory books on Beekeeping on the market today! Every beekeeper should own Beekeeping for Dummies. And, after almost 20 years as a Beekeeper, I still keep a copy at my bedside and regularly pull out this book."                                                         Cathy Kozma, Founder and Head Beekeeper, Bees Are Life Inc.
Like all of the "Dummies" books this makes both a great beginner guide to beekeeping and an invaluable reference manual. Easy to read, with snippets of advice mixed in with good humour, it's indispensable. It'll take you through pretty much every scenario that you will see as a beekeeper. Makes an excellent gift for every aspiring apiarist.
Similar products
Customers who viewed this item also viewed