Bee23 "Bum Balm for Baby"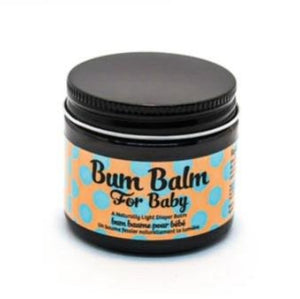 Bee23 "Bum Balm for Baby"
Regular price
Sale price
$24.95
PRODUCT DETAILS 

SKIN CARE BALM for Baby! BEE23 Bum Balm is very popular with new parents. Not only is it an excellent barrier cream reducing redness and rashes while protecting skin from moisture, but it is also free of zinc oxide and safe for cloth diapers use. This is a naturally light and sensitive formula with no essential oils. It makes a very good moisturizer for facial care for those with very sensitive skin issues. We decided to let the sweetness of the beeswax add a gentle aroma to the product.
 
Helps reduce redness and rashes 
Suitable for sensitive skin
Scent-free
Beeswax base
Free from SLS, sulfates, parabens & petroleum
Made in Canada
Net weight/size: 2 fl. oz (59.15 ml)
Ingredients: Butyrospermum Parkii (Shea Butter), Cera Alba (Beeswax), Helianthus Annuus (Sunflower) Seed Oil, Armeniaca Vulgaris (Apricot Kernel) Oil, Jojoba (Jojoba) Seed Oil, Vitis Vinifer (Grape) Seed Oil, Olea Europaea (Olive) Oil, Calendula Officinalis (Calendula Oil), Tocopherol Acetate (Vitamin E).
Similar products
Customers who viewed this item also viewed