Bee23 Hotty Balm for Normal to Oily Skin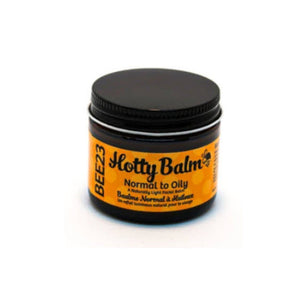 Bee23 Hotty Balm for Normal to Oily Skin
Regular price
Sale price
$34.95
PRODUCT DETAILS 

SKIN CARE BALM for Normal Skin to Oily Skin is recommended for normal, combination, young and acne-prone skin. It creates a beautiful natural glow that customers love to rave about. This skincare balm blend melts into your skin, however, acts like a barrier in harsh elements, from pollutants and in soothing inflamed skin or rosacea. This formula has natural UV and SPF properties with the use of healthy ingredients such as olive oil, jojoba oil, shea butter and vitamin E.  

This formula contains lavender and beeswax which are both excellent for acne-prone skin as they have properties that help break down the bacteria that create acne issues.

100% All Natural Face Balm
Gently soothes & smooths
Helps reduce acne & rosacea
Keeps youthful, dewy glow
Enhanced with essential oils
Blended with herbs & cold-pressed oils
Free from SLS, sulfates, parabens & additives
Made in Canada
Net weight/size: 2 fl. oz (59.15 ml)

Ingredients: Butyrospermum Parkii (Shea Butter), Cera Alba (Beeswax), Vitis Vinifer (Grape) Seed Oil, Armeniaca Vulgaris (Apricot Kernel Oil), Helianthus Annuus (Sunflower) Seed Oil, Simmondsia Chinensis (Jojoba) Seed Oil, Lanolin, Olea Europaea (Olive) Oil, Calendula Officinalis (Calendula) Oil, Tocopherol Acetate (Vitamin E), Pelargonium Graveolens (Geranium Egypt), Lavendula Officinalis (Lavender), Citrus Reticulate (Mandarin).

Similar products
Customers who viewed this item also viewed