Bee23 Body Balm Honey Love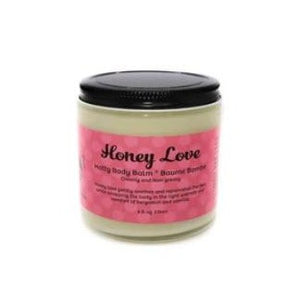 Bee23 Body Balm Honey Love
Regular price
Sale price
$29.95
PRODUCT DETAILS

Body Balms! Honey Love Hotty Body Balm is our goddess blend. This gorgeous skincare formula gently soothes and replenishes the skin, while wrapping the body in the sweet warmth and comfort of bergamot, ylang-ylang and vanilla essential oils. The aroma of bergamot works to balance and reduce anxiety while vanilla and ylang-ylang help lift the mood. This is the best body care product ever for moisturizing skin because there is no water and contains only the good stuff such as shea butter, grape seed, jojoba oil, calendula and beeswax. 

100% All Natural Body Balm
Gently soothes & replenishes skin
Very moisturizing for dry skin
Natural aroma scent
Blended with cold-pressed oils
Enhanced with essential oils
Free from SLS, sulfates, parabens & additives
Made in Canada
Net weight:/size 2 fl. oz (59.15 ml)
After bathing, pat dry and smooth onto skin. It creates an invisible breathable barrier that locks moisture in. The texture of this body balm melts into the skin to leave it feeling silky soft. This formula contains no synthetic chemical additives and has worked very well to soothe sensitive, dry skin issues.

Ingredients: Butyrospermum Parkii (Shea Butter), Helianthus Annuus (Sunflower) Seed Oil, Olea Europaea (Olive) Oil, Cera Alba (Beeswax), Jojoba (Simmondsia chinensis) Seed Oil, Vitis Vinifer (Grape) Seed Oil, Calendula Officinalis (Calendula Oil), Tocopherol Acetate (Vitamin E), Cananga Odorata (Ylang-Ylang), Citrus Bergamia (Bergamot), Vanilla Planifolia (Vanilla) Oil.
Similar products
Customers who viewed this item also viewed