Bee Pollen Buzz - Super Premium Propolis, 500mg Capsules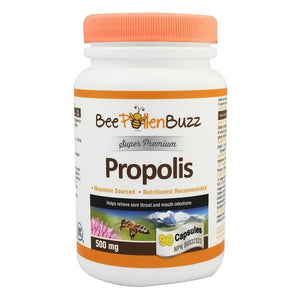 Bee Pollen Buzz - Super Premium Propolis, 500mg Capsules
Regular price
Sale price
$18.95
Propolis is an all-natural product made by Honeybees from tree resins, which they use to coat the inside of the beehive to help keep it sterile.

We have taken Propolis for eons, as a powerful anti-bacterial and anti-microbial, and to boost the immune system and strengthen the body's ability to fight off infections. It can also be helpful in the regeneration of tissues and to promote healing. Propolis has also been known as an effective supplement to take to boost your energy levels. 
This product is perfect for those who like the convenience of capsules, or if you don't love the taste of the liquid Propolis tincture. Each bottle contains 90 Capsules, with each capsule containing 500mg of Propolis. 
Take 1 - 2 per day, each bottle contains a 2 - 3 months supply.
NOTE:  Propolis is also available as a Tincture, Throat Spray, as Gummies, or RAW in chewable form.
Made in Canada. 
Similar products
Customers who viewed this item also viewed