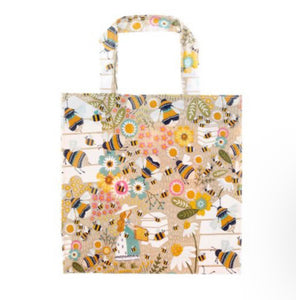 Regular price
Sale price
$24.95
Go Girls !!! A compact reusable carry bag, from the "Beekeeper" line of Ulster Weavers. Perfect for shoppers and lovers of bees. This colourful line beautifully depicts a wildflower meadow filled with buzzing bees and their busy female.
Our pvc gusset bags are perfectly practical, made from natural cotton and coated in PVC to make cleaning easy. Simply wipe the bag clean with a damp cloth to remove any stains and food remenants from your latest shopping trip. PVC differs from our oilcloth PVC finish due to it's shinny and reflective surface effect, compared to oilcloth PVCs matt surface. All our bags are available in a selection of stunning designs, all created in Northern Ireland by our talented team of designers.

Material: 100% Cotton coated with PVC. Measures approx 10" x 10" x 4.5" wide gussett.
Sunshine yellow interior.

Product Care Instructions: Do not wash; do not bleach;do not tumble dry; do not iron; do not dry clean.
Also available in this line: Mugs, Apron, Tea Towels, Tea Cozy, Oven Mitts, Reusable Bags
Similar products
Customers who viewed this item also viewed