Backyard Farming: Keeping Honeybees, by Kim Pezza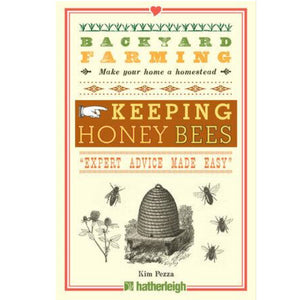 Backyard Farming: Keeping Honeybees, by Kim Pezza
Regular price
Sale price
$6.99
From the Publisher "Make beekeeping a part of your backyard farming experience: enjoy honey, beeswax and a more fruitful garden, as your bees will work as hard as you do to make your backyard farm a success!

Backyard Farming: Keeping Honey Bees is your guide to successfully caring for your hive. As a comprehensive primer for first-time beekeepers, Keeping Honey Bees includes detailed illustrations and informative photographs that help to ease new homesteaders into the world of backyard beekeeping.

Keeping Honey Bees takes you from start to finish: from planning out your bees' space in the yard and constructing/installing your hives, to feeding and nurturing your new colony, to enjoying your very own golden honey and more. 

With Keeping Honey Bees, you will:
• Learn the proper use of the equipment necessary to make your beekeeping a success
• Construct an apiary to minimize your workload and ensure a productive colony
• Gather honey and beeswax for profit, or to include in your own self-sufficiency plan
• Use the freshest, fullest honey possible in delicious recipes
…and many more tips and tricks from experienced farmers to help you avoid the most common pitfalls you might encounter."
Softcover, 144 pages.
Similar products
Customers who viewed this item also viewed