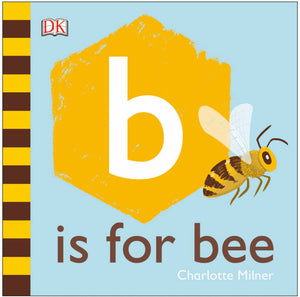 Regular price
Sale price
$7.99
From Publishers Website - Take a first look at the amazing world of bees in this beautifully illustrated non-fiction picture book, a perfect first gift for babies and toddlers.

With simple facts and bright images, introduce little ones to the basics of bees, from bumblebees and beautiful flowers to beekeepers and bears that love honey. The friendly, read-aloud text and exciting imagery will have young nature- lovers smiling in no time.

Have fun by pointing to the colorful illustrations that tell the story of these bee-rilliant workers. Learn where bees call home, copy the "buzz buzz" sound they make, and find out who the beekeeper is. See how busy bees are and where they make their yummy honey. Filled with simple, fun facts, B is for Bee provides lots to talk about and is cleverly designed to encourage early learners to repeat the fun b-words and buzz like a bee.

Charlotte Milner, the author of The Bee Book, The Sea Book, and The Bat Book, continues to tell the tale of these busy bees by introducing little ones to the exciting world of these clever creatures. This sturdy board book is perfect for little hands and the colorful imagery makes this a real page-turner for animal-loving babies and toddlers.


Similar products
Customers who viewed this item also viewed