Veliotiko Honey Balsamic Vinegar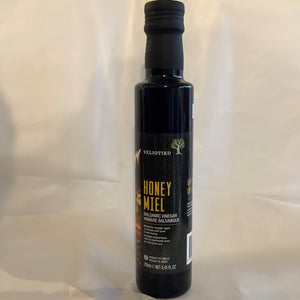 Veliotiko Honey Balsamic Vinegar
Regular price
Sale price
$10.00
This sensational combination of balsamic vinegar and honey is matured up to 7 months in barrels to give a brand new, sweeter and tasteful sensation.  250ml
"Our Oil,  Our Village,  Our Passion.

Legend is the olive tree was a gift from the Goddess Athena to Athenians in 6000 B.C. Early Greeks used oil from its fruit for lighting and heating before it became a part of their healthy Mediterranean diet.

Veliotiko orchards thrive in the rich farming village of Velies within the picturesque Peloponnese region of Greece where olive harvesting has its roots. There, Velies olives grow yearly in 365 days of gentle sun with temperatures averaging 23 degrees C."
Similar products
Customers who viewed this item also viewed