Making Wild Wines & Meads, by Pattie Vargas and Rich Gulling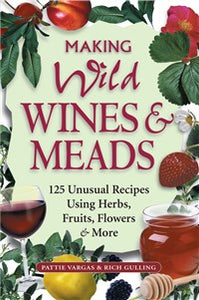 Making Wild Wines & Meads, by Pattie Vargas and Rich Gulling
Regular price
Sale price
$25.95
We personally LOVE a good Mead, and have ourselves made some of the best we have ever tasted ... far better than what you can buy at the LCBO. And, with some good guidance and instruction, it's actually not that difficult. 
In past years (until CoVid) among the courses we have taught at our store, the Ontario Honey House,  is a Mead Making Course. Watch our website for further information about courses, once we get up and running again live and in person in 2023. This one always sells out quickly.
In the meantime this book is a GREAT resource to get you started trying them on your own, from home.
From the Publisher: 
"Make extraordinary homemade wines from everything but grapes! In this refreshingly unique take on winemaking, Patti Vargas and Rich Gulling offer 125 recipes for unusual wines made from herbs, fruits, flowers, and honey. Learn to use ingredients from your Farmers' Market, grocery store, or even your own backyard to make deliciously fermented drinks. Lemon-Thyme Metheglin, Rose Hip Melomel, and Pineapple-Orange Delight are just the beginning of an unexplored world of delightfully natural wild wines.
Cheers! "
Paperback, 176 pages
Similar products
Customers who viewed this item also viewed