Puzzles - "Harvest Time" - 1,000 pieces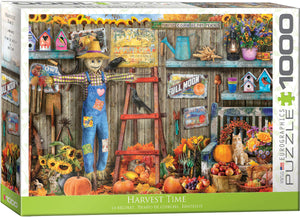 Puzzles - "Harvest Time" - 1,000 pieces
Regular price
Sale price
$22.99
Puzzles are the perfect indoor activity, for great family fun for adults and kids alike! This 1,000-piece jigsaw puzzle is by Eurographics.  You can almost smell the clean crisp Autumn in the air. Pumpkins are pentiful and farmers markets are in full swing as the fall follage begins to light up the landscape.
All Eurographics puzzles are made according to very high standards, to give you many years of enjoyment.  The strong high-quality puzzle pieces are made from recycled board and printed with vegetable based ink.
This superior quality puzzle will delight and educate all at the same time.

Finished Puzzle size:  19.25" x 26.5" / 48.89 cm x 67.63 cm

Similar products
Customers who viewed this item also viewed