Pioneer Brand Bee Pollen (Fresh / Frozen) *** FOR IN STORE PICK UP ONLY ***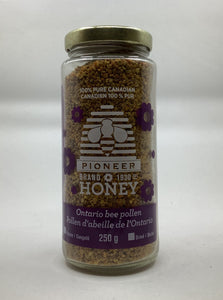 Pioneer Brand Bee Pollen (Fresh / Frozen) *** FOR IN STORE PICK UP ONLY ***
Regular price
Sale price
$19.95
FRESH POLLEN MUST BE KEPT FROZEN UNTIL USE.
Locally sourced, from the King area, just north of Toronto. A great source of protein, and easily bio-available. Perfect for vegetarians or if you simply want to eat less meat and are looking for a good and tasty source of protein, vitamins, minerals and amino acids, without adding any cholesterol or sodium ... and it's gluten-free.
Studies are showing that for those with a mild seasonal allergies small amounts of 100% bee pollen may help build your resistance and alleviate symptoms! 
For those new to Bee Pollen, use a "baby steps" regime (slowly working your way up, to lessen the possibility of an allergic reaction) take only 5-10 grains of pollen a day for the first week, and double it weekly, working your way up over a number of weeks towards 1 teaspoon/day.
Each jar is unique in colour and taste, because we can't tell the bees where to forage. Like sunshine in a jar, it represents the diverse range of flowers growing throughout the season. 
Highly nutritious, this premium product is frozen immediately after harvesting to ensure freshness. Keep frozen. 
Keep frozen to preserve freshness. We recommend this product is returned to a fridge or freezer within 3 hours of pick-up.
Similar products
Customers who viewed this item also viewed